WELCOME TO THE HOTTEST OF WEBSITES, DEDICATED TO THE -STAR WARS- SAGA!!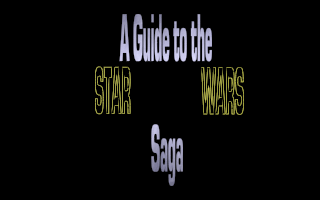 Millenium Falcon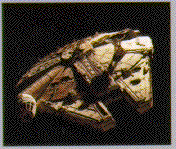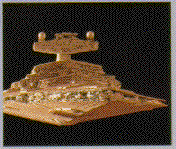 Star Destroyer
If you've ever seen STAR WARS movies, or read a STAR WARS book, and you enjoyed it, then you're in for a, special treat.
This page has been built to enlighten others on the GREAT -STAR WARS- Legacy created by the ever so largely talented, George Lucas.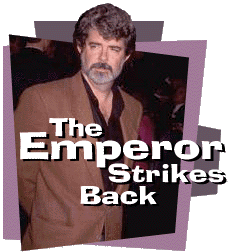 Throughout this page you will be able to: explore the Before and After sequences of the First stories created by: George Lucas, look at pictures of Old and New characters, ships, and the rest of the things in the -STAR WARS- SAGA, go to other other webpages created by students, and the -STAR WARS- homepage, as well as answer skill testing questions like: In Timothy Zahn's Trilogy Book Series, Which character was a student of the dead Emperor Palpatine?...... the answer is= Mara Jade.

So FASTEN your seat belts, and hold on tight because, you're in for the ride of your life.... oh, yeah and "May the Force be with You".
To prepare you for your trip through this page and equip you with enough knowledge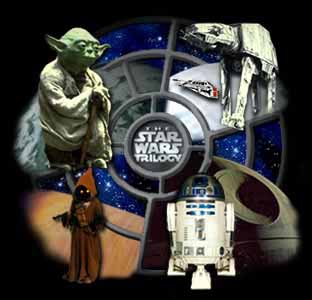 Here you may link to the Past, Present and Future of the STAR WARS Saga and explore a New Frontier.
To learn of the times during: the reign of the Jedi Knights, the downfall of the Jedis, and the rise of the Evil Imperial Empire.
To learn of the times during: Luke Skywalker's training, Princess Leia Organa's rule, and the Rebellion's fight against the Galactic Empire for, universal peace.
To learn of the times during: the arrival of the New Jedi Academy, the rise of the New Republic, and the New wars fought between the Alliance and the New Order.
Here are some favorite links to search and go to other webpages
For the lazyness in all of us, a page just for pictures